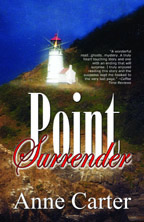 "Truly a wonderful read… ghosts… mystery… a heart touching story and one with an ending that will surprise… kept me hooked to the very last page." — Coffee Time Romance Reviews
I'd been on the hunt for a great summer read and I found it! All the elements I love; the California coast, the ocean, lighthouses, romance and mystery. What more is there?
Anne Carter's Point Surrender
has it all. Amy Winslow has reached, just about, the lowest point in her life and is running from seemingly insurmountable problems. Enter, Case McKenna. Just his name gets the blood boiling! They share the strange sighting of a mystery man falling from a bluff near the lighthouse, along with a desire to bury unhappy events in their lives.
While trying to escape her own demons and uncover clues about the death of a former lighthouse keeper, Amy unwittingly reveals aspects of Case's life that he had long suppressed. Will this drive them apart? Or bring them closer?
You can find the answer in this beautifully written story by author,
Anne Carter
. Look for follow-up,
Cape Seduction
, coming this fall from
Echelon Press
.

More about Anne Carter - Beacon Street Books

Buy Anne Carter books at Echelon
Buy Point Surrender on Amazon
Buy Point Surrender on Fictionwise


Brought to you in part by: BUY: WOOF: Women Only Over Fifty , BUY: Wendel Wordsworth, BUY: Cynthia's Attic